Rear Wave Brake Disc For Kawasaki Item code : 20899
Shipping:
Calculated at checkout
---
Product Description
High Quality Rear Brake Disc Rotor
This is brand NEW aftermarket Rear Brake Rotors made by our company. On the rotors work, we have recently been given merits for the laser cutting technology, rotor cooling technique and for using some of the most durable materials. 100% new, factory packed and never been used. Made in high quality stainless steel. We've tried those rotors on the road & track and to be honest, they worked better than we thought they would. Its technology allows expansion and contraction of the rotor and carrier when braking, therefore providing much better braking response, feedback, reduced drag & heat, full pad contact and always perfectly aligned.
| | |
| --- | --- |
| Outer Diameter | 225.00 |
| Inside Diameter | 110.00 |
| Thickness | 5.00 |
| No. Of Holes | 4.00 |
| Bolt Pattern | 130.00 |
| Holes Diameter | 10.50 |

- Generally 15% to 20% lighter than OEM brake rotors
- Made of Low-carbon high grade stainless steel (SUS420 J2)
- 5mm thickness (high performance)
- Feedback and perform better than most OEM rotors
- Designed by CAD/CAM system
- Hi-end laser cut technology, heat resistance test on each disc
- Expandable and contactable, offer great friction during brake
- **QTY: 1 DISC**
Fit for Kawasaki
| | |
| --- | --- |
| Z 750 (ZR 750 L7F/L8F/L9F/LAF) | 07-11 |
| Z 750 ABS (ZR 750 M7F/M8F/M9F/MAF/MBF) | 07-11 |
| Z 750 R Non ABS (ZR 750 NBF) | 11 |
| Z 750 R ABS (ZR 750 PBF) | 11 |
| Z 1000 (ZR 1000 B7F/B8F) | 07-08 |
| Z 1000 ABS (ZR 1000 C7F/C8F/C9F) | 07-09 |
| Z 1000 (ZR1000 DAF/DBF) | 10-11 |
| ZZR 1400 (ZX 1400 A6F/A7F) | 06-07 |
| ZZR 1400 ABS (ZX 1400 B6F/B7F) | 06-07 |
| ZZR 1400 ABS (ZX 1400 D8F/D9F/DAF/DBF) | 08-11 |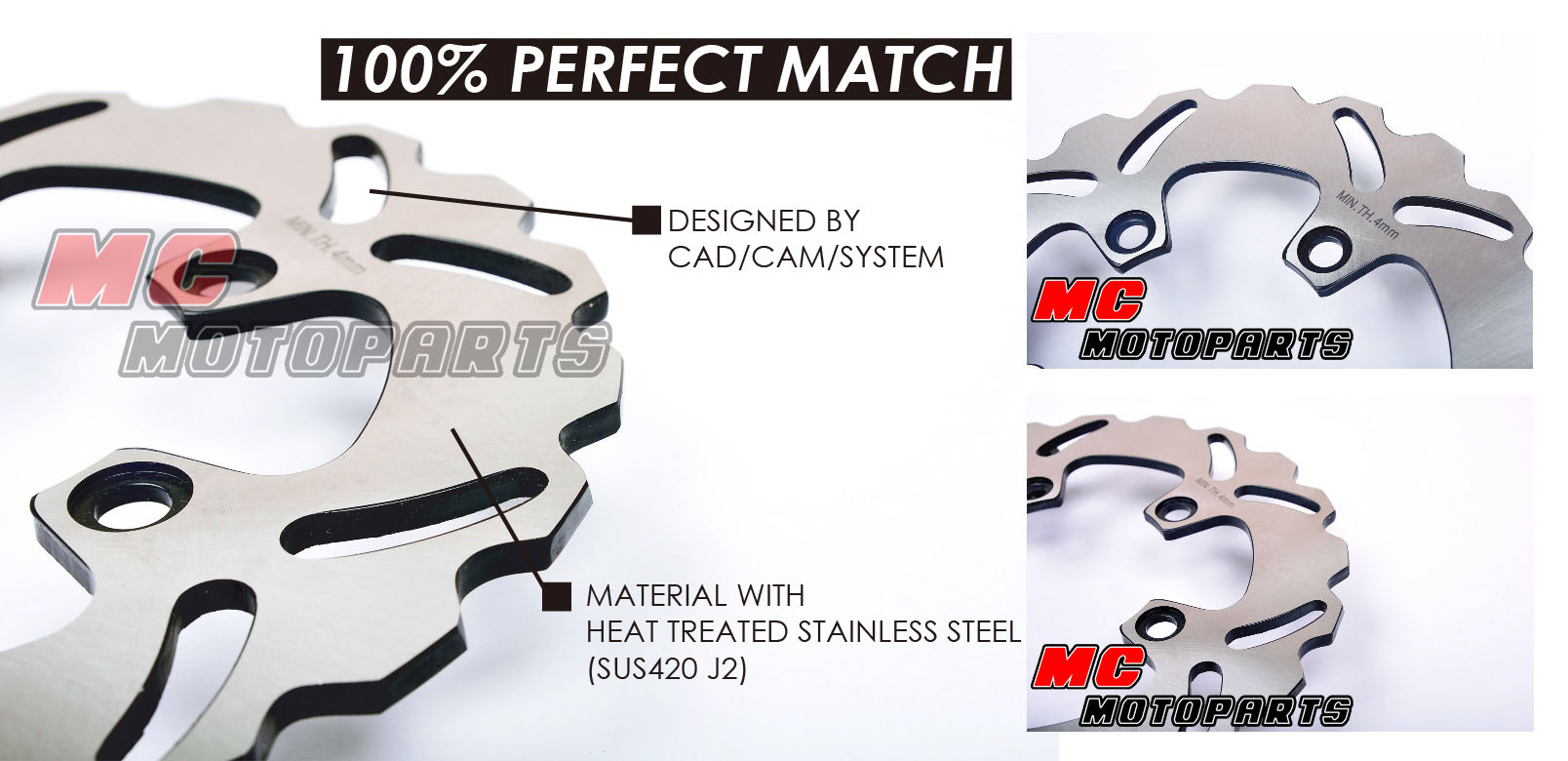 ---
Find Similar Products by Category
---
Customers Who Viewed This Product Also Viewed